Over the past several years, Seventh Sense has primarily focused on helping businesses, organizations and educational institutions, use AI to understand and automate the process of sending emails to their audience at the most optimal time. Also, known as send time optimization or send time personalization.
While we've always had a bigger vision, building an artificial intelligent email assistant is no easy feat. Paul Roetzer of the Marketing Artificial Intelligence Institute put it perfectly when he said; "We're at a pre-school level in terms of where AI will take marketing — it's very early...Those which take initiative to see what's possible and what it will be - will create a massive, insurmountable advantage for their brands in the long-term.".

As email marketing has become more challenging in recent years, we've continued to invest a significant amount of financial resources, mental energy and infrastructure to build a more encompassing solution which we call "Intelligent Email". This post (and more importantly the product updates) are another step in that direction.

Email Deliverability Protection

Deliverability Protection Insight

Overall engagement with your email sending domain is one of the key factors that Google, Microsoft and corporate spam systems now use as the mechanism of where to place your emails (the primary inbox, promotions, clutter or spam folder; or worse quarantined altogether by the email server).

You can now track your active audience closely. This goes far above and beyond just open and click rates and rather focuses on the percentage of unique people that are engaging with your emails in the current or previous month.





One of the major reasons we built this is to provide quick insight into email deliverability protection. If your active audience falls into the yellow, this should raise some red flags and you should consider your segmentation and suppression strategy. If your active audience falls into the red, you're likely having having email deliverability problems (not "delivery" problems, but rather landing in the inbox) or the people you're adding to your email program are not properly vetted.

It can also be used to get a sense of whether you're under or over-emailing your audience.

Intelligent Audience Segmentation Powered by Machine Learning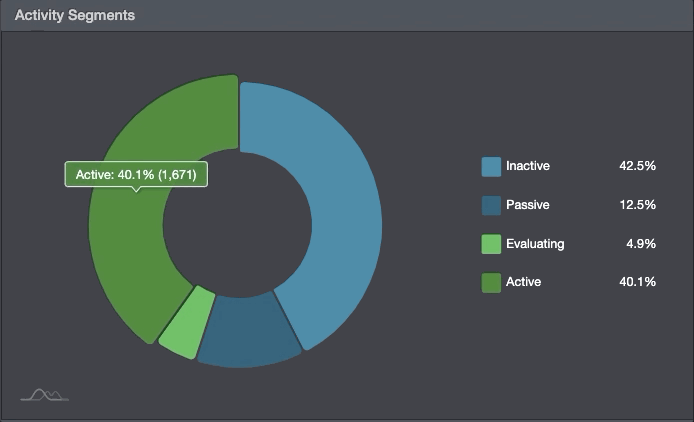 Seventh Sense now uses an individualized machine learning model to automatically classify each person in your email marketing program into four distinct stages of email activity:

Evaluating - These are either new or relatively new people in your email program where the system is building a baseline to understand their activity level with your email program.

Active - These are the people that are actively engaged in your email program.

Passive - These are the people that the system has determined as being partially active in your email program.

Inactive - These are the people that the system has determined as being inactive in your email program.

Intelligent Suppress and Unsuppress of Activity Classes
Have you ever spent hours trying to figure out a strategy to include or exclude people from your emails? With Intelligent Suppress and Unsuppress of activity classes you now have the levers available to meet the business outcomes you desire while also ensuring you don't hurt your email domain's reputation in the process.

Inclusion and suppression of activity classes can be accomplished at the time of scheduling or in real-time while an email delivery job is running.

Intelligent Email Pause and Resume
Have you ever blasted an email to your audience only to find it had a broken link or image, run out of a promotional item, sent the wrong email or overloaded your systems / sales team / call center because of a successful / unsuccessful campaign? We've all been there! In many of these cases, you're left with a decision of whether you should send a follow up email to the effect of "we goofed" which can cause decreases in engagement, heightened unsubscribes or spam complaints, create an unfriendly customer service situation or tarnish your brand.

This is exactly why we built an easy button which empowers you to pause an email from sending while you fix the issue, update the promotional item, change the email that is being sent or wait for the demand on your systems / sales team / call center to get back to normal limiting the impact of these challenges. Once you're ready to begin sending again, simply resume the campaign!

With the ability to pause and resume delivery jobs, another risk reduction feature that was highly requested and implemented is Seventh Sense account users will receive their email at the start of a mailing versus being send time optimized. The goal with this is to help spot potential challenges before a recipient notifies you of the issue or halfway through the mailing you spot it when you receive your email by way of send time optimization.

Interactive Charts and Deeper Analytics
A new charting system has been deployed throughout Seventh Sense which empowers you to interact far deeper with the charts on the dashboard and scheduled email delivery jobs.
Self-Service Support
Seventh Sense has invested in numerous resources to provide users with self-service support.

For example, from time to time, delivery failures from Seventh Sense to HubSpot or Marketo happen. While the Seventh Sense system has been designed to automatically recover from failures, there are edge cases where this is not possible. Using the same method that our internal support team has previously had access to, self-service support of retrying failed deliveries is now available for all users.

The Seventh Sense knowledge base has also been completely revamped with not only new how-to's, but also use cases of the new features.

Self-guided tours are now available in the system.

Additionally, in partnership with Nextiny, a HubSpot Platinum Agency Partner, we're working on a full collection of support videos which will be launched shortly.

We will continue to invest in all of these channels to ensure users of Seventh Sense have the support they need when and how they want to consume it.
Multi-User, Multi-Account and Single Sign-On Support
After evaluating a number of different solutions, Auth0 was the clear choice in providing identity management to enhance our security capabilities for customers. This also lays the foundation for numerous other types of other security enhancements.

While in early release status, Seventh Sense now supports the ability to have multiple user logins to a primary account, multiple account access with a single login and Single Sign-On capabilities.

Previously, Seventh Sense only supported one login per account. With the latest release, you can now create multiple users that all have access to the same Seventh Sense account while empowering you to revoke access from users if they no longer need it or have left your organization.
For agencies or companies that support or manage multiple Seventh Sense, Marketo and HubSpot accounts, you can now access all of your accounts with a simple drop down menu.

Here's what Kelley Wrede, Director of Marketing at Revenue River (Diamond HubSpot Partner) had to say "As we deployed Seventh Sense to more clients, one challenge we faced was with the management of each client's Seventh Sense portal. We've actively been engaged with the beta of Seventh Sense's multi-user and multi-account functionality which has not only simplified the way we work within Seventh Sense, but has also saved us a great deal of time."
Intelligent Frequency Optimized Nurture Campaigns for HubSpot

A new option when creating nurture campaigns that integrate with Seventh Sense is the ability to use a new frequency optimized webhook option that not only slows down the frequency of emails being sent, but also increases the probability of reaching the people that are showing signs of fatigue.

When a person enters a passive or inactive activity state, Seventh Sense will pick the most optimal time of engagement by not only time of day, but day of week to have the next email sent versus using the most optimal time within the next 24-hours. For people that are either in an evaluating or active state, they will have their email send time optimized over the next 24 hours.
Enhanced Performance for Scheduling Marketo Emails

Seventh Sense has increased the performance of displaying lists and campaigns in the scheduler screen by taking advantage of the new Marketo Assets API. This optimizes the loading of the list scheduler screen by filtering based on the program ID and last modification date of your list(s).
Webhooks Updated to Support HubSpot's Request Signatures

Seventh Sense and HubSpot are now offering a better, more secure way of verifying webhooks with request signatures. Seventh Sense worked closely with HubSpot's engineering team over the past several months to ensure a smooth transition from basic auth to the new and improved request signatures methodology.

The new request signature functionality is now available for all joint Seventh Sense and HubSpot customers. Additionally, for any existing webhooks previously using basic auth these have all been transitioned to use request signatures.