It's vanity...it's social proof…no, it's subscriber counts!

First and foremost, I'm all for social proof as it's one of the most valuable assets any company can have. However, one trend I'm still a bit perplexed with is companies trying to use email subscriber counts as anything but a vanity metric. I recently had some fun and visited a number of sales and marketing blogs to see how blown out of proportion this is. Below are a few examples.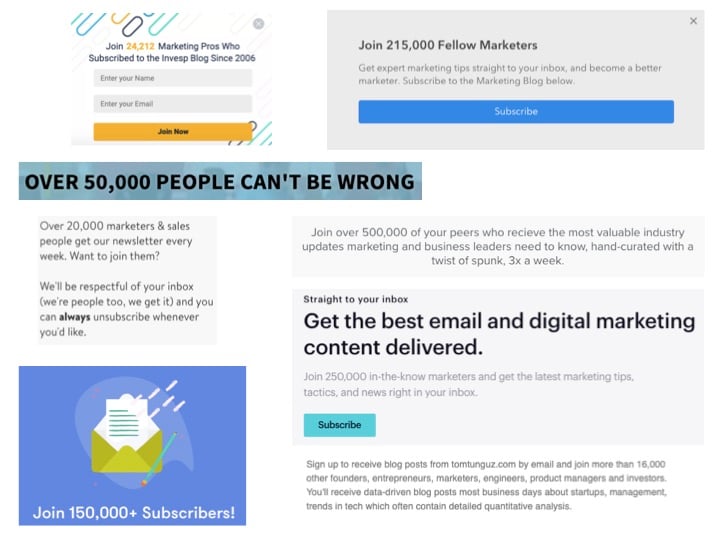 Now let's take a look at some recognizable brands that I'm sure have a large base of subscribers, but don't display the count.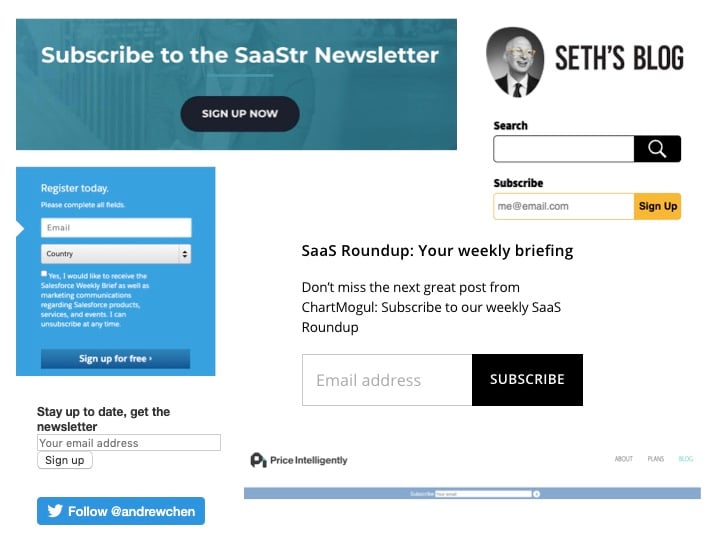 Much like social media followers, do companies really measure success based on the number of subscribers (aka - the number of people they email or have email addresses for)? I'm genuinely curious.

One thing I do know for certain is while these companies may have this number of email addresses on hand, they do not have the attention of a large majority. I'd argue that most probably don't even have the attention of 20% of them. Heck, in 2015, HubSpot unsubscribed 45% of their blog subscribers (250K of them) to solve a graymail issue.

If this is indeed a metric that marketers pay close attention to, it definitely contributes to the bad behavior we see in email marketing today.

I know some would argue this and I've heard countless times, "If I don't email them then they'll never engage". My response has always been "I also have a chance of winning the lottery, but I'm not betting my house (aka email deliverability) on it.".

Personally, I'd much rather have 2,000 highly engaged and qualified subscribers than 10,000 subscribers that rarely engage or have little knowledge of who they are.

Some of my reasoning for this includes:
1. Lower monthly / yearly investment with our marketing automation platform
2. I'm not annoying people with content / offers they're simply not interested in
3. I'm not hurting our domain reputation which is more important than ever in getting our emails to our subscribers inboxes
Yes, there will be situations where it makes sense for a company / organization to track total subscriber counts, but in my book, a much better metric is tracking your activated or engaged audience. This would or should at least create better behavior when it comes to email marketing.
1. It raises a better question of how can we activate our unengaged audience through different content / offerings or email frequency.
2. At what point should we let them go.
3. It allows you to have a far clearer idea of who your subscribers are and what their interests align (i.e. you're not looking for a needle in a haystack and is much easier to identify trends).
4. Most importantly, by sending to people that are engaged, you protect your domain reputation to ensure those that want to hear from you do (i.e. your emails aren't landing in spam).
At Seventh Sense, we monitor our active audience to ensure we're staying above a threshold where we know our domain reputation doesn't begin to suffer. This goes far above and beyond just open and click rates and rather focuses on the percentage of unique people that are engaging with our emails based on the total number of unique people that were sent at least one email within the current or previous month.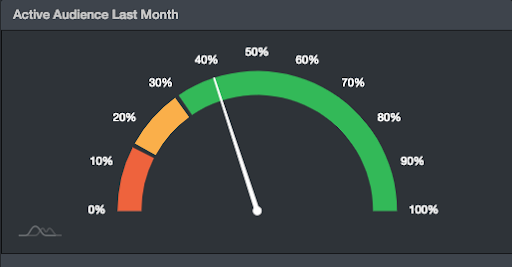 Let us know how you feel about this approach!