Why do we send marketing emails? To educate, inform and have our subscribers engage.How often is too oftenEmily loves email. In fact, she runs a company whose primary customer outreach is via email! Her inbox overflows on the weekends. During the week she tries to dig out so she can stay on top of business, but it's always a challenge.Last year was Emily's 30-year college reunion. After giving a modest donation, it seemed every day they had a new update for her. Student activities. Alumni Awards. Sports statistics. Cafeteria menus?! After a month of the deluge, Emily had enough and unsubscribed.
Emily is not alone. The number one reason people report unsubscribing from email lists is that they receive too many emails in general.

Consider an alternate ending to Emily's story. What if, at the end of the tax year, her school had sent her an update, the 10,000-foot view of what's happening at her school including a reminder about the tax deductibility of her last donation, some stats on last year's fund raising drive and an appeal for repeat donations. Would she have given again? Unfortunately, Emily doesn't get their emails anymore so we'll never know. Emily had a full-blown case of email and brand fatigue. Had the marketing team caught the symptoms a bit earlier, noticing her lack of engagement with emails and slowing down the cadence, Emily would have been another regular donor.

Mark, on the other hand, attended the same school as Emily but graduated 50 years ago. Mark is retired, and even though he lives on the other side of the country, he enjoys reading about what's happening at his alma mater. He sends a sizable monthly contribution, and the regular updates provide him with a sense of community he values. He also likes to see where his money is going. And he has time to read the updates they send.

Unfortunately, much like the time that you send your email, there is no one size fits all approach. Also, neither Mark or Emily bother to visit their "Subscription Settings" or even know they exist. They're donors and, they magically started receiving emails. There must be a better way.
Personalize your frequency with AITo fully optimize your email strategy, you have to take into account that some subscribers don't want to hear from you as often as others, and that's NOT a bad thing. If you use HubSpot, you already own the data you need to identify email fatigue and at what frequency each subscriber would prefer to hear from you. Using Seventh Sense's new engagement classes, you can automatically choose what subscribers should get your email with the simple click of a box.

Seventh Sense's machine learning system determines whether a subscriber is heating up, staying at an average level of engagement, cooling down or is completely disengaged. Additionally, you can now see your entire audience in one snapshot to understand engagement level as a whole.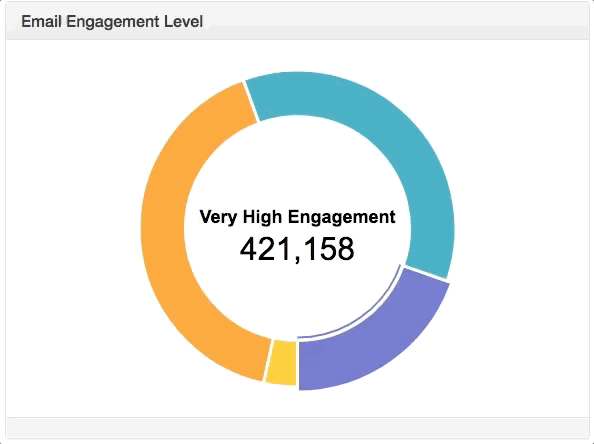 Often a small break is all it takes to pique a subscriber's interest again, where you would only have your most engaging content or promotions sent, deep discounts on products, end of year summaries, etc.
Taking the extra step to personalize delivery frequency can have profound effects in fighting email fatigue. In a case study by HubSpot, Imagine Business Development doubled their engagement rates and conversions and decreased website bounces coming from email marketing by 33%. Imagine Business Development also wrote a more detailed post on how they did it.
Let's dive into some more benefits.DeliverabilityRecently an industry colleague said, "An ounce of email marketing optimization is worth a pound of deliverability cure!". This is such an amazingly accurate statement.
Whether you're a small business or a large enterprise, email marketing mistakes and lack of optimization techniques cost you opens, clicks, revenue and attention in the inbox. And once your attention gets bad enough, you'll start having deliverability problems meaning that you'll land in spam or worse, get dropped at the front door.
A good communicator knows how to read body language and uses it to guide how they interact with others. We've all been there; you're explaining what your organization does, but notice the other person seems to be losing interest. They appear distracted, there's less eye contact and in general less engagement with what you are saying. So what do you do?
In person, the signs a customer or prospect are losing interest are apparent and ignoring them would be foolish. In the digital realm, many organizations keep talking until their potential client or customer either says they aren't interested (unsubscribes), falls asleep (ignores their emails), or worse yet, excuses themselves for a moment and calls in an anonymous tip for loitering (reports them as spam).
In the last decade, email marketing technology has improved dramatically. Most email clients and CRM's hold a wealth of data. With the right tools that data can be used to communicate with your customers and optimize your email campaigns. Many organizations work overtime to create engaging, personalized content, and then hit send to their entire list. They don't pay attention to their subscriber's cues and blindly send streams of email to customers who haven't touched an email from them in months. They wonder why their engagement rates are falling, their subscribers are unsubscribing, and their emails are getting caught in spam traps.Subscriber churn rateTransparent churn is the metric most marketers often pay attention to; unsubscribes, hard bounces, etc. These are addresses that you can no longer email due to subscriber action.
Opaque churn is less apparent. These are subscribers who are not engaging with your emails, but your messages keep being sent. These could be subscribers suffering from email fatigue or may have your message delivered to an "other" folder. These are subscribers that you should be paying attention to, either to attempt a re-engagement campaign or eventually scrub them from your list.
Some churn is inevitable; people go through life changes, leave jobs and lose their emails, interests change, etc. The point of an email engagement optimization strategy isn't to maximize the size of each mailing; it's to keep the unnecessary churn to a minimum. Why we unsubscribeWhile there are many distinct reasons a person may unsubscribe or stop reading a company's emails, there are two core concerns.
Irrelevant or poor quality content

Brand fatigue, or general email fatigue
The research bears this out clearly. Despite the fact that most consumers say email is their preferred form of brand communication. Too much email will give even the most engaged subscribers a serious case of brand fatigue. Take a look at this research by MarketingSherpa. Reasons 1, 3 and 6 all fit into the fatigue category, and 2, 4, 5, 7 and 9 into the content category.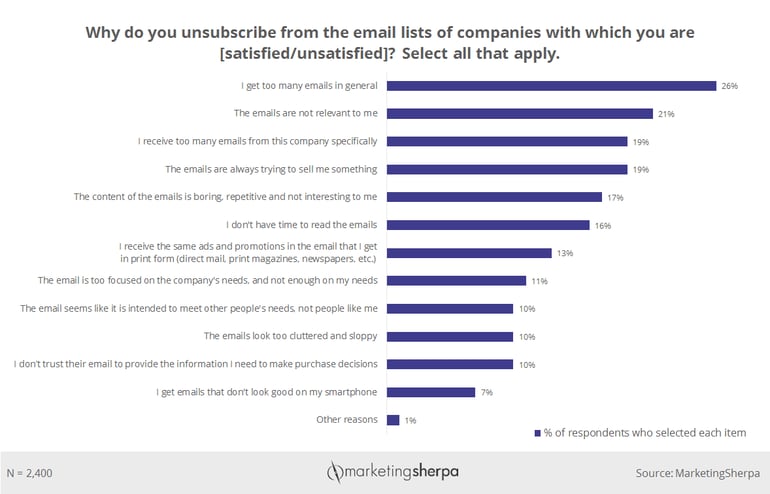 Why is this more important than ever?
Email is not dead, in fact, 77% of consumers surveyed say they prefer to hear from companies via email over all other forms of advertising. Email marketing maintains a high return on investment, averaging $38 for every dollar spent in 2015, but the top and bottom quartile differ drastically in ROI. It's okay to unsubscribeIf the unsubscribe option isn't obvious, they will likely just block your address or report your emails as spam. This can lead to lower delivery rates with that email service provider in the future.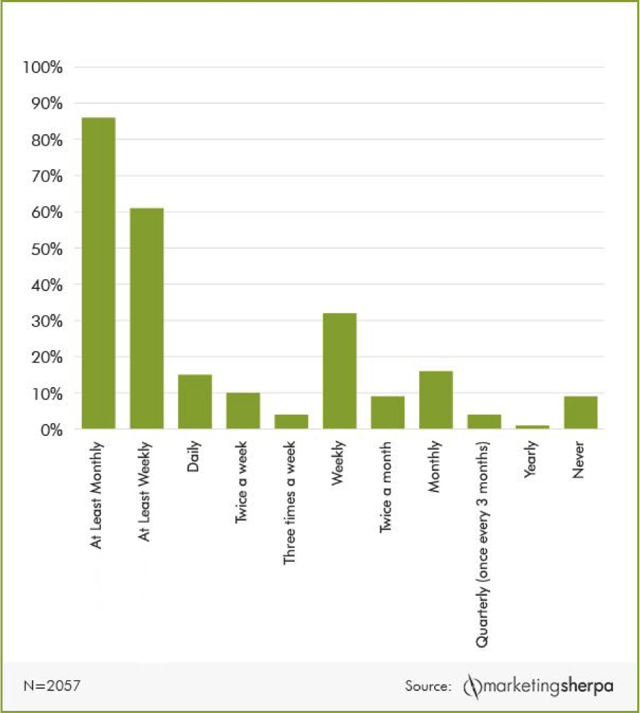 This particular study illustrates the importance of segmentation by cadence. There's a lot of ways to identify preferred cadence. You can always provide a subscriber preferences page where subscribers can choose which emails they would like to receive or how often they want to hear from you. If a customer already has a full blown case of email fatigue, they may be looking for the unsubscribe button by the time they see they can opt to receive fewer emails. As time passes interest levels in particular subjects can also fluctuate.
Want to learn more? Download the Guide to Email Fatigue.