Chatbots have become a staple in major online chat platforms like Facebook Messenger, which has over 1.3 billion users. Online chat is a faster and more convenient form of communication across the board, with people from all 195 countries using it.
However, chat is not the only channel worth paying attention to as email still remains strong and steady for marketing. The great news here is that you use chatbots to grow your email list, thus being able to use it as a force multiplier.
With a chatbot, you can turn your email list, and then your whole marketing campaign, from a donkey into a unicorn.
Why Use a Chatbot for Growing Your Email List?
Social media is where most people spend most of their time, so it's natural for chatbots to be a good fit in it. That makes connecting with users on a more personal level easier and more engaging, and you can ask them to subscribe to you.
Once they're subscribed, they're added to your contact list and give their information, including their email addresses. You can then add those email addresses to your email list so you can send them newsletters and drip campaigns.
It's like a trickle-down effect, with the success of your chat marketing potentially leading to the success of your email marketing.
Why Do Most Chatbots Fail?
When not set up right, chatbots fail in bringing people in and getting them engaged.
Knowing why a chatbot would fail in creating engagement and attracting subscribers can help you avoid the same pitfalls.
Unable to Properly Respond
As they're essentially computer software, chatbots don't truly understand human language.
That usually results in a run-in-the-mill chatbot giving incorrect or inappropriate responses to inquiries from human users.
A lot of times, they just give non-answers that make them seem like they don't understand the question.
That's because they actually don't and weren't set up to take such questions with appropriate responses, especially for your niche.
Unengaging to Begin With
A chatbot gets boring when they sound lifeless, like a robot that uses a tone that's too formal or overly academic.
That makes it sound like its responses were either copy and pasted from somewhere else or written by someone with no social life.
It should use language that everyone commonly speaks, without big words and with simple grammar that makes it sound more casual.
If the chatbot is boring, people won't be engaged and will stop conversing with it.
Unhelpful and Annoying
When a chatbot just doesn't do anything at all to actually help a user with their inquiry, that's a disaster.
That goes the same for spammy tactics that people will find incessant and annoying, which is easy to do with a chatbot.
It should be able to give people the option to unsubscribe to it or it can seem obtrusive and overbearing otherwise.
The key is to give users a measure of control over the chatbot, mainly in how it can help them and the choice to make it stop.
How Do You Get Their Email Addresses?
The chat inbox has superseded the email inbox as the most intimate place for someone on the Internet.
Despite that, email is still a very personal thing, and no sensible person would ever give you their email address without good reason.
Even if you mention your need for it as a "just in case" sort of deal, such an abrupt request will be seen as crass and even offensive.
Asking for their email address without setup will just end up with them being even more unwilling to give it to you.
They need to be engaged and wooed through a thought-out process of information, entertainment, and enticement.
Don't Ask For Email Right Away
People are most likely to refuse a request or call-to-action at the beginning of a conversation with no rapport yet established.
Set forth from the start to engage with your users and have conversations with them.
Seek to give them value by giving them relevant information and entertainment.
Give them reasons to stay tuned to your updates and activities through your chatbot.
The longer a user engages with your and your chatbot, thus building a relationship, the more likely you'll get their email address as a result.
Upon saying yes to that request, along with continued positive interaction with your brand, they'll be more likely to keep saying yes.
Provide Users With An Incentive
Email addresses have value in digital marketing, so you should provide value in return if you wish to procure them.
Have your chatbot offer incentives like informative content, trial offers, exclusive deals, promo codes, and so on.
With the right amount of generosity, you can make users more willing to give you the value you seek in return.
For instance, if you're running an online store, you can provide information on items and product recommendations.
You can also offer special discounts, promo codes, freebies, and so on to those who subscribe and provide their email address.
That gives them incentive to give that information to you for value in return.
How You Should Ask For Email
It's important that the chatbot does exactly what they're meant to do and give relevant information and answers to users.
Remember that people get on chat because it's now the fastest and most convenient method of communication.
Your responses should give them that same level of speed and ease so they'll take you and your chatbot seriously.
The best way to have people give you their email addresses is to have a reliable and valuable chatbot that they can subscribe to.
To be something people would want to subscribe to, value can't be without convenience, and vice versa.
When you have both and offer value that your audience actually wants, then they'll subscribe if you ask them to and you'll get their email addresses.
Grow Your Email List with a Chatbot in 3 Steps
You can build a Messenger chatbot with a platform like MobileMonkey that can garner email addresses to grow your email list. You can also choose among different chatbots from Chatbots.org depending on what your business needs.
A chatbot, when built and managed right, can gather email addresses much better than a website form or other similar methods.
1. Make a Chatbot That Collects Email Addresses
Make a free MobileMonkey account if you haven't yet and you'll be taken through the basics of how to build a chatbot.
You can then create your Dialogues, which are self-contained chatbot conversations that you can edit.
That's where you come up with your conversation flows, which you can add responses to frequently asked questions and calls-to-action.
This chatbot will help you collect email addresses and other contact information from Messenger users.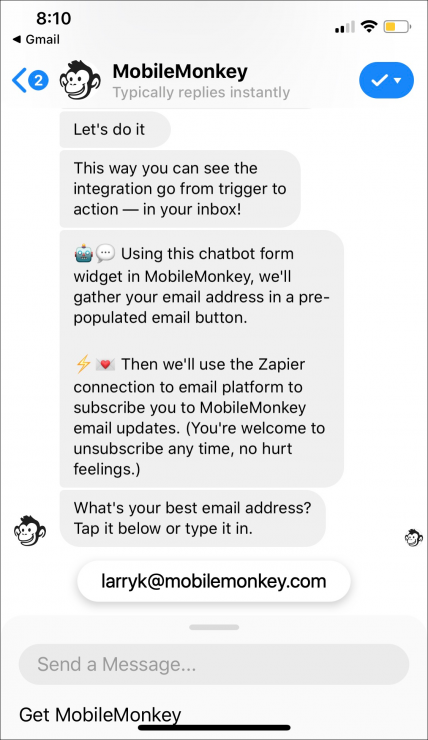 2. Connect Lead Data to Email Marketing Platform
You can automate tasks in MobileMonkey, so you don't have to copy and paste every new contact into your email list.
This can be done through integrating MobileMonkey to other business platforms with Zapier, an automation platform.
For example, if you're using MailChimp for your email campaigns, you can integrate MobileMonkey and MailChimp with Zapier (and get more monkey power).
3. Get Traffic to Your Chatbot Funnel
Now that you have a viable chatbot funnel for your digital marketing efforts.
Once you're starting to grow your email list with your MobileMonkey chatbot, you can now start pushing traffic through your chatbot funnel.
You should have Messenger ads, drip campaigns, and links to Messenger to create engagement with your chatbot.
Use Messenger ads to convert a targeted Facebook audience into captured emails.
You can also use your website chat to collect email addresses from visitors who chat with your chatbot.
There are plenty of ways that you can do with MobileMonkey to supercharge your email list.
Conclusion
Chatbots are neither a one-size-fits-all solution nor a magic bandage that can solve all problems. They still need knowledge, experience, and effort to get right, but that's something you can acquire over time.
Good customer service is expected from online businesses, but most small businesses don't have the manpower for 24/7 support.
That's what makes chatbots great as it gives small businesses the same power as a large company for customer service.
And when you can grow your email list with your chatbot, you can increase the power of your digital marketing and customer service.