A few weeks ago, we published a quick guide to writing an effective coronavirus email. Unfortunately, it looks like we'll be living with COVID-19 and the disruptions that come with it for a while longer. With that in mind, we wanted to understand how marketers are approaching email marketing in this new time of social distancing.
We asked our audience of marketers, do you plan to invest more, less, or the same in digital lead generation in the next 3-6 months?
The answer was clear, 50% of respondents said they plan to invest more.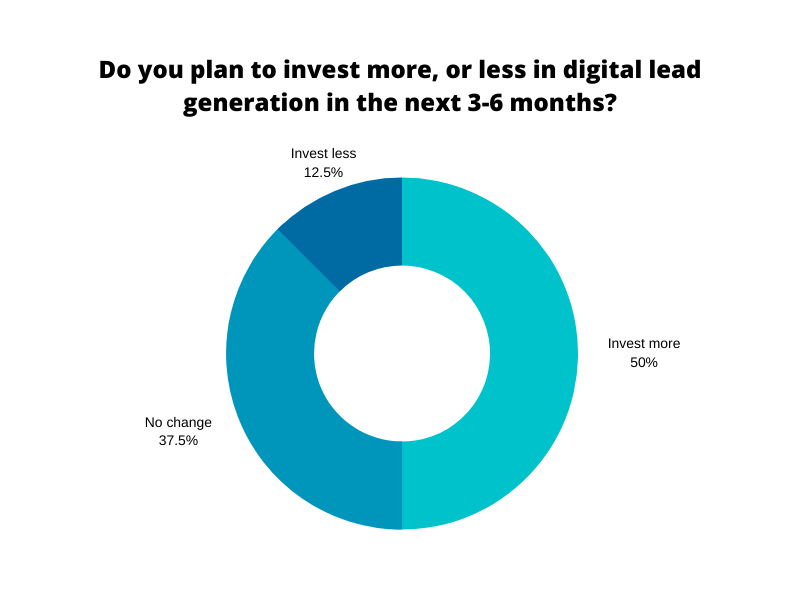 "A lot of our clients rely on in person events or meetings" says Kara Inglis from Nextiny Marketing. "The events that we normally help them promote to their database during this time have all been cancelled."
Many marketers in our panel faced similar challenges, conferences cancelled, retail store fronts shuttered and the list goes on. But new lead generation is expensive and many businesses are already under extreme financial strain. This makes email, one of the few channels you actually own, increasingly appealing.
When asked if they plan to send more email in the coming months almost half of our sample said they plan to send more. Only 12.5% of marketers said they plan to send less email in the near future.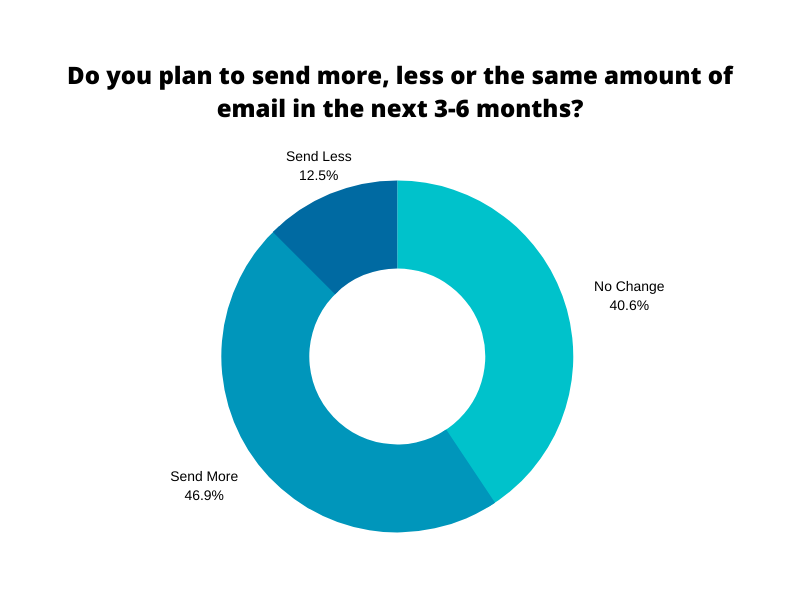 For the 87.5% of marketers planning to continue, or increase email marketing efforts over the next 3-6 months, things are going to be increasingly competitive.
Every other marketer is thinking the same thing: "How can I get more leads/customers with the physical world shut down?"
At the same time, your subscribers lives have likely changed drastically in the last few weeks. Many are working from home, caring for children who are out of school, some have lost jobs, and some may even be sick or caring for someone who is ill. Balancing growing, or even just sustaining your business while also being sensitive to your subscribers is a new challenge for all of us.
To help you navigate this new challenge, we decided to turn to the collective wisdom of the crowd and gather the perspectives of 32 marketers on how they are approaching email marketing during coronavirus. We'd love to hear your thoughts and feedback in the comments.
Let's get started.
Lead with empathy
One of the most common themes we heard from marketers was to focus on empathy.
"We are leading with empathy and authenticity. This is not new but it is more important given the gravity of the crisis" says Bill Peatman from Andela. "We are only sharing messages that we believe will help our partners adapt to the pandemic and its business impacts."
WordStream's Amanda Oles agrees: "We are taking an active approach to pivot our copy to be more empathetic and always acknowledge what is going on in the world. Sticking to the status quo for white papers wasn't successful."
Empathizing with your customers can take a practical tone as well. The key is to think of how customers' situations have changed.
"We've recentered our email and SMS marketing around how the situation has changed customer communication overall, and what some businesses are doing now to stabilize or grow" says MobileMonkey's Larry Kim. "Everything we're doing now is focused on strategies and channels for growth in the current situation because that's what's top of mind."
Jacqueline Basulto of SeedX agrees: "Each company plays a different role in their customer's lives, and our job has been to consider how they can help alleviate the pain people are experiencing while recuperating as much revenue as possible as the market takes a hit."
How are they doing it? "It looks different depending on the company: for a food company, we might encourage people to stock up or try new recipes while at home, for a clothing company it might be a stay at home sale with loungewear, for an event company it might be providing events at home, etc." Basulto says. "We have had to put our thinking caps on to be creative, pivot, and meet people where they are right now."
"It's important during this time that your email subscribers don't feel you're trying to profit from the Coronavirus" says Janice Walk from Mostly Blogging. "Can you still try to profit during the Coronavirus? Yes. It just can't look like you're trying to profit FROM the Coronavirus."
Review/update automations
Automated drip campaigns can be a great time-saver, but depending on your content they may appear out of touch during a time of crisis.
Kelley Wrede from Revenue River: "We've shut off/paused a lot of the automated emails/drip sequences we had going for clients, especially when COVID-19 was first starting to become more serious to ensure not to be perceived as insensitive or unaware."
"We've definitely pivoted to more timely and relevant emails in light of the current situation and are using the time to rework promotions for live events to switch them to virtual," says Wrede.
Ruba Aramouny from Solid Marketing is also making adjustments to automation:
"You need to be sensitive to the current situation and the changes everyone has had to make to their everyday lives. We went through the content of our email automation to see if anything that we previously wrote needed to be adapted."
Make sure images are up-to-date
It's not just copy that can be out of date. Andrew Becks from 301 Digital Media cautions marketers to make sure their imaging is up-to-date with the world we're living in:
"We're working to ensure that messages contain appropriate images that reflect the social distancing and stay-at-home measures in place across both the majority of states in the US and countries around the world, and eschewing non-relevant, non-time-sensitive messaging."
Optimize your timing and frequency
Chris Bryant from Joovv says he is using this time as an opportunity to focus on improving deliverability and engagement: "We've started to go back to more pertinent send time optimizations, taking this time to ensure email deliverability through dedicated IP, optimizing past emails for vocabulary, and using send time optimization!"
Offer discounts
In some cases, customers may still be in the market for your product or service but due to economic strain can't afford the full price. Many marketers said they are offering discounts on products or services for the time being.
"Since our focus is helping people start and maintain their small businesses, we're now using our emails to provide not only free and discount services we know our customers really need right now, but also reminders about required business filings that may be forgotten in such distracting times." - Garret Bever from MyCorporation.
Morgan O'Mara says her company, Altvia, is making some of its communication tools completely free for the next month and using email to spread awareness.
Eventually, this crisis will pass and budgets will come back. Businesses that can afford it may be able to expand their long term customer base and increase goodwill by helping others in a time of need.
Think long term and focus on building relationships
"Our focus has totally shifted to a long-term, resource-heavy strategy" says AJ Alonzo of Demand Drive. "Before COVID-19, email marketing was (primarily) focused on getting the leads in our database back in touch with someone on the sales team. Now, it's more focused on long-term nurturing, education, and resource sharing."
AJ continues: "Pretty much all of our current and near-term campaigns are designed to help our prospects get through this time by delivering the content we think would be the most valuable. No CTA's, no asking for a follow-up, no selling. Right now for us, the name of the game is RELEVANCE. Helping our prospects now will (hopefully) pay off for us in the future."
Oliver Smith from Energy Seek agrees: "With sales and leads pretty much on the floor at the moment, we have been trying to focus on building more relationships within the industry. Trying to find ways we can help each other though these tough times."
Support, don't sell
"We are making our email communication all about our clients' needs and supporting them during this time," says Jennifer Lux from Lynton Web.
"Instead of promoting our own services or offers via email, we are offering consultative and customized support to clients on a variety of topics, ranging from work-from-home strategies to brainstorming innovative product development ideas in response to this crisis and the needs that have emerged as a result of it."
Omi Diaz-Cooper from Diaz & Cooper is advising her clients to do the same: "We've advised Clients to stop sending sales emails (unless their products are actually helpful) and focus on positive and supportive information. Put yourselves in the shoes of your audience and look for ways to provide human-to-human engagement."
Be nimble and don't be afraid to adjust your scheduled campaigns if needed
Aiza Coronado from EmailMeForm emphasized the importance of adjusting and being nimble during crisis: "We had a sales campaign planned months before, we were about to launch it, but I decided to hold it off for a week to change the entire strategy, add more empathy, and to change the tone of the emails, especially those time-sensitive ones towards the end of the campaign.
We didn't want to throw in additional stress to the situation. It required us to be more nimble, more human, and more caring."
Double down
With conferences canceled and retail stores shuttered, almost half the marketers we surveyed said they plan to double down on email marketing.
"When revenue slows, companies are looking for ways to cut spending, and marketing comes under the spotlight" says Damien Esling from CLCK Digital. "With email being one of the few truly "owned" marketing channels, spending on things like content marketing, paid social, and branding can be cut in the short term, with email filling the void and presenting some good opportunities for return on marketing spend."
Damien also brings up the long term pay off of investing in email: "It's times like this our clients are thankful for the large email lists they've spent years building, and with which they can communicate with "for free" during this tough time."
Ben Johnston from Sage Frog Marketing agrees: "Email marketing has become a much more prevalent channel for our clients and for ourselves. Since the presence of businesses is more dependent on the digital space than ever, email is becoming one of the easiest, in terms of turnaround and messaging, to effectively carry out for clients.
"A lot of businesses have had to put things on pause, but some of our customers have seen 125% increases in online sales these last few weeks" says MobileMonkey founder Larry Kim.
"While we lost a lot of chat marketing customers, we've also seen record signups: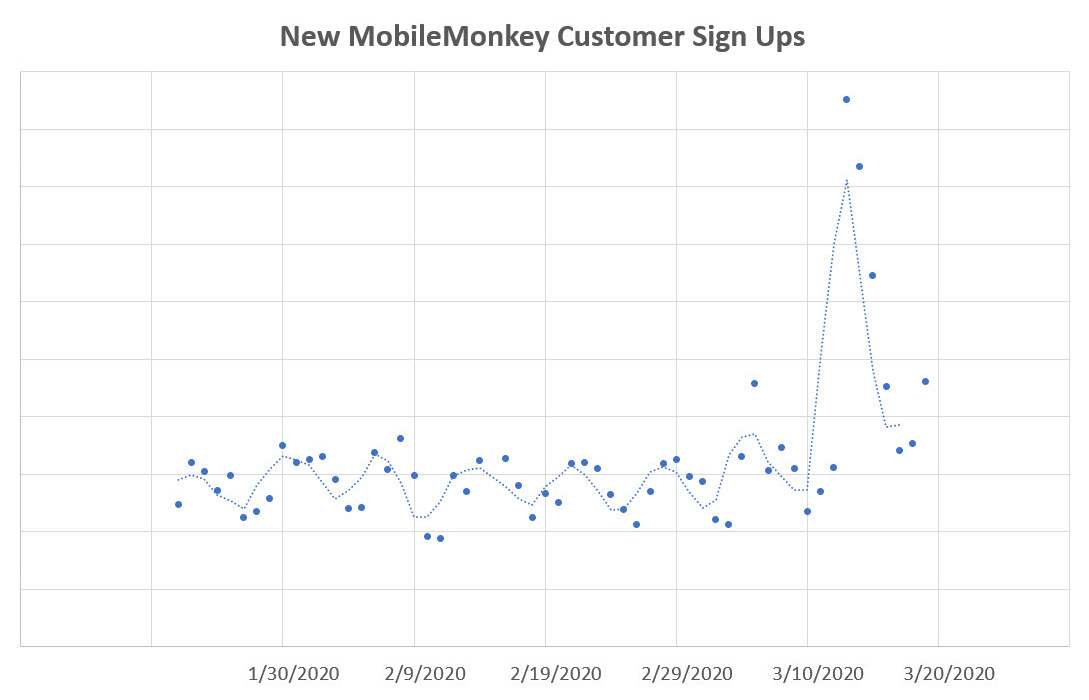 Rikki Lear from Digital22 is also doubling down: "From an agency perspective we have actually increased email communication during this time. We feel we have genuine insight and advice to provide to our persona that can help them with these challenging times.
We have created additional marketing collateral to support this such as webinars, deep drive blogs and videos. These are all aimed to added real value with no sales intent and distributed via email (amongst other channels)."
"Customers and clients are hungry for as much up to date information as possible and email marketing is still one of the most effective ways to reach people" says Sam Olmsted from Search Optimism.
We're all getting more email than ever, but with in-person meetings a thing of the past, we also have more time to read it.
Scaling back
Not everyone one we surveyed is scaling up their email efforts.
"We have taken a hard look at our email marketing strategy and chosen to send fewer emails," says Christian Karasiewicz from Social Chef's. "We respect a users Inbox and don't want to flood them with more emails about the same information (or what we're doing) like everyone else."
"Instead, we've chosen to focus on producing better quality content (written articles, videos and audio), improving our live videos (add link) and started to pivot towards private messaging, inviting users to join our business on WhatsApp. This has proven to be a much more efficient way of reaching customers (and helped us get our messages in front of them, rather than buried in their Inbox)."
Alex Vale from Attio says they are also scaling back: "We took an active decision to scale back those updates for two reasons. The first is because this isn't a time for self-promotion and gloating, and product update emails can sometimes feel like that. And the second is that everyone and their dog is being bombarded by (mostly irrelevant) covid-19 responses. We didn't want to be seen as making light of the crisis, or being opportunistic on promotion."
Segment your audience
"Segmentation is more important now than ever" says Tyler Pigott from Lone Fir Creative. "There are different people in ours and our clients databases that are impacted differently by the pandemic, we want to make sure we are being sensitive to each segment of prospects and/or customers."
David Denning from Jumpstart Go is also focusing on more segmentation: "We are segmenting more so we can deliver relevant info to our subscribers and sort them into our correct funnels. Both of these are partially due to us having more time to do so and also that our audience has more time on their hands as well."
Add value
John Donnachie from ClydeBank Media brings up the importance of staying relevant and adding value: "We know that in a crisis like this we have to earn their (subscribers) attention and the best way to do that is to continue to provide them value."
Johnny Santiago from Social Catfish says his company has also changed their topic focus to be more timely: "We educate our audience on how to avoid scams and fraud, so we have focused on timely and relevant topics by teaching them how to spot coronavirus scams that are out there and how to protect themselves during these times."
"I think that as long as your content is relevant to the current situation, you can up your email marketing efforts. But I would focus on helping people rather than overtly trying to sell right now" says Julian Raby from Cookwared.
Create thought leadership
Andy Crestodina from Orbit Media suggests leading with thought leadership instead of typical promotional content: "In uncertain times, people are attracted to voices of confidence. So we've shifted toward stronger thought leadership in our content and email. Thought leadership is different from typical content, because it has a heart, which is what the world needs right now."
Andy continues: "We're including more voices in our content, helping people understand that they are not alone. Our last article was filled with dozens of quotes from people going through turmoil and change. It was a powerful piece of content because it was curated, not written by us. Reading it makes you feel like you're listening in to others' voices, witnessing an event.
Focus on what's immediately relevant
Several marketers in our survey mentioned they've exchanged more aspirational content to things that are immediately relevant.
"Our email marketing strategy has shifted from aspirational to more solution focused. During these times the audience doesn't like to hear about a dream life but rather how their current problems can be solved" says Srajan Mishra from TSI Apparel.
Andrew Ruditser from MAXBURST agrees: "As a digital agency, we are finding it more important than ever to make sure that our clients can quickly update their websites with timely information about COVID-19. Due to this drastic shift, we no longer send out marketing tips and strategies. Instead, our clients are most concerned about emergency response and quick online support. Therefore, our email marketing strategy is now more geared towards assisting our customers with this type of information."
Stay the course
Depending on your business, you may not need to change your strategy drastically.
"We sent out an update to our users to show support and tell them that our services won't be interrupted even as we adapt to working remotely (and that we're regularly washing our hands)" says Mor Mester from Automizy. "Other than that, we'll keep sending our newsletters, updates, and onboarding emails with the same frequency."
Should you send a COVID-19 Update?
46.9% of the marketers we surveyed said they sent at least one COVID-19 email update.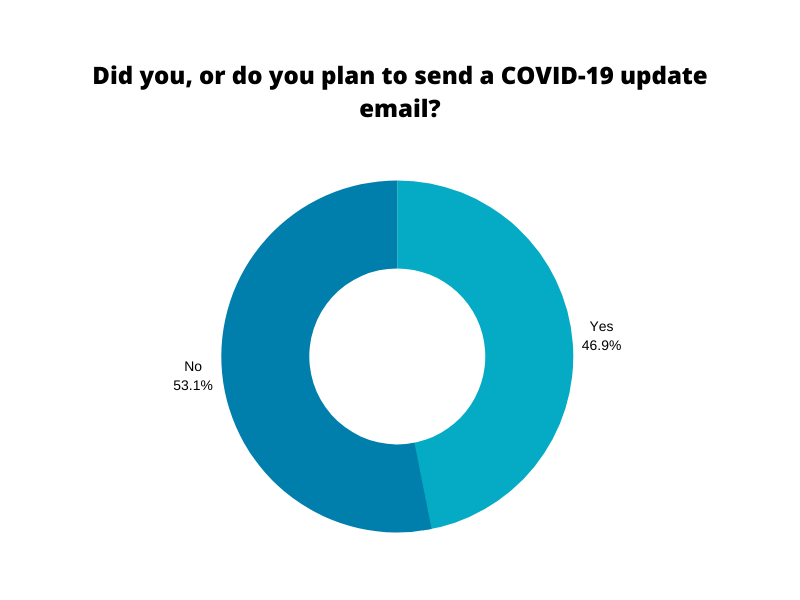 As with any more informational email, make sure to send it to active users. You don't want to blast a database that hasn't heard from you in years.
Conclusion
We want to say thank you to all the marketers that contributed their time and perspectives to this article. We hope you, the reader, took away at least a few insights to help you improve your own email marketing program during these challenging times. Working together, we'll get through this.