HubSpot's Growth Stack is a set of fully-integrated tools to help businesses find and connect with new customers. The growth stack brings marketing and sales tools together, allowing both departments to automatically share insight on leads that Marketing is nurturing and prospects that Sales is working.The growth stack allows you to track your entire marketing and sales funnel and gives your marketing and sales teams the ability to share contacts, customer data, dashboards, reports, and pipelines in one place. You can easily see the path each lead takes to becoming a customer, with key insights along the way. The growth stack saves both teams time that used to be spent manually scoring leads, making notes, and ensuring that no quality leads slipped through the cracks.Use the Data You Already Own to Determine When to Send EmailSalespeople and marketers have the same challenge when it comes to sending email. The average business person deals with 122 emails each day—and this number is much higher for decision makers. Additionally, an hour after sending an email, the likelihood of a response drops by over 50% and decays even faster from there. Many people don't even see all their email because it's just not a priority over all their other tasks. If marketers want their emails to be opened and links clicked or if salespeople want a response, they need their emails to be waiting at the top of the inbox when these individuals go into their inboxes to handle email. Adding to this, each individual has their own habits on when they'll engage with their inbox. For example, Sarah the CEO typically engages at 10:00PM whereas Scott the CMO typically engages at 5:30AM.
HubSpot users, both on the sales and marketing growth stack, are automatically generating engagement data on each contact. Seventh Sense's artificial intelligence and predictive analytics system has out-of-the box data connectors for HubSpot Marketing, Google's G Suite, Microsoft Office 365, and Microsoft Exchange designed to collect and analyze this data. By connecting this email and marketing engagement data together, you'll gain a 360 degree profile on when each contact is engaging and replying to your organization's emails by time of day and day of week.
As one of our customers, Brad Hess, who is the Director of Demand Generation at Ceros, put it:
"Timing is crucial when it comes to closing deals. That's why I'm really excited about Seventh Sense's card in HubSpot. Now our sales team has easily accessible and actionable insights for the best time to connect with each individual, based on every interaction they've ever had with us."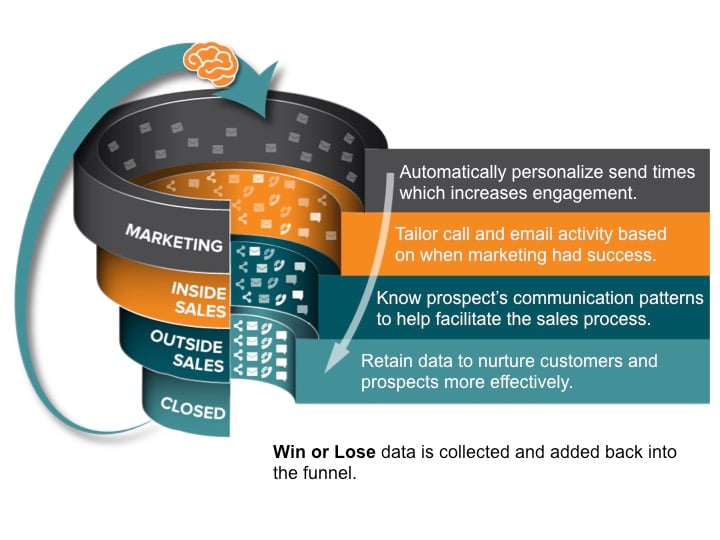 Access Insight Quickly with HubSpot CRM Extensions
HubSpot just released its new CRM Extensions functionality into the growth stack, which allows you to add "extensions" to your contact records, to provide quick access to essential information provided by HubSpot's Connect Partners or custom integrations. One of the extensions you can add is from Seventh Sense.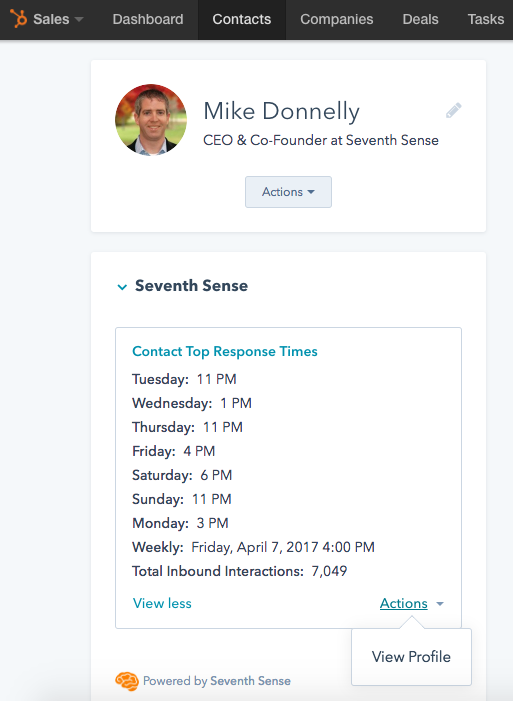 If you use Seventh Sense, this extension should already be showing up in your contact records. When you click on an individual record and scroll to the bottom, you'll see the extension. (You can drag the extension to the top or anywhere else in the lineup, if you want easier access to it.) The extension will tell you the contact's top response times, for each day of the week and their weekly top response time along with providing a heat map visualizing the contact's profile. So if your salesperson is wondering when to email a particular prospect that Marketing has been nurturing, the extension will provide insight on when that individual has historically been replying to sales emails, and opening and clicking marketing emails.
How You Can Use The Email Insight Extension with HubSpot's Growth Stack
Knowing when individuals are spending time in their inboxes and making sure your email gets delivered when they are most likely to engage will directly affect your response rates. As a HubSpot Sales user, you can start using the "Send this email later" feature and use the "Custom" time option backed by artificial intelligence. This reduces the number of attempted touch points and accelerates the sales process.
Our research has also found there's a high correlation between when people respond to email and when they answer their phones, so this insight can also be used to increase salespeople's call connect rates. How Your Organization as a Whole Benefits
Sales and Marketing alignment is a challenge for most organizations. The more information sharing that occurs the more successful you can be. Seventh Sense provides a natural way of capturing a new data source and making it actionable for both sales and marketing teams.
Additionally, sales turnover is inevitable, and capturing valuable data, such as the most optimal times to reach individuals, can greatly reduce the ramp time to productivity for new sales hires.
With overcrowded inboxes, getting your emails read and responded to can be the deciding factor between close won and close lost.